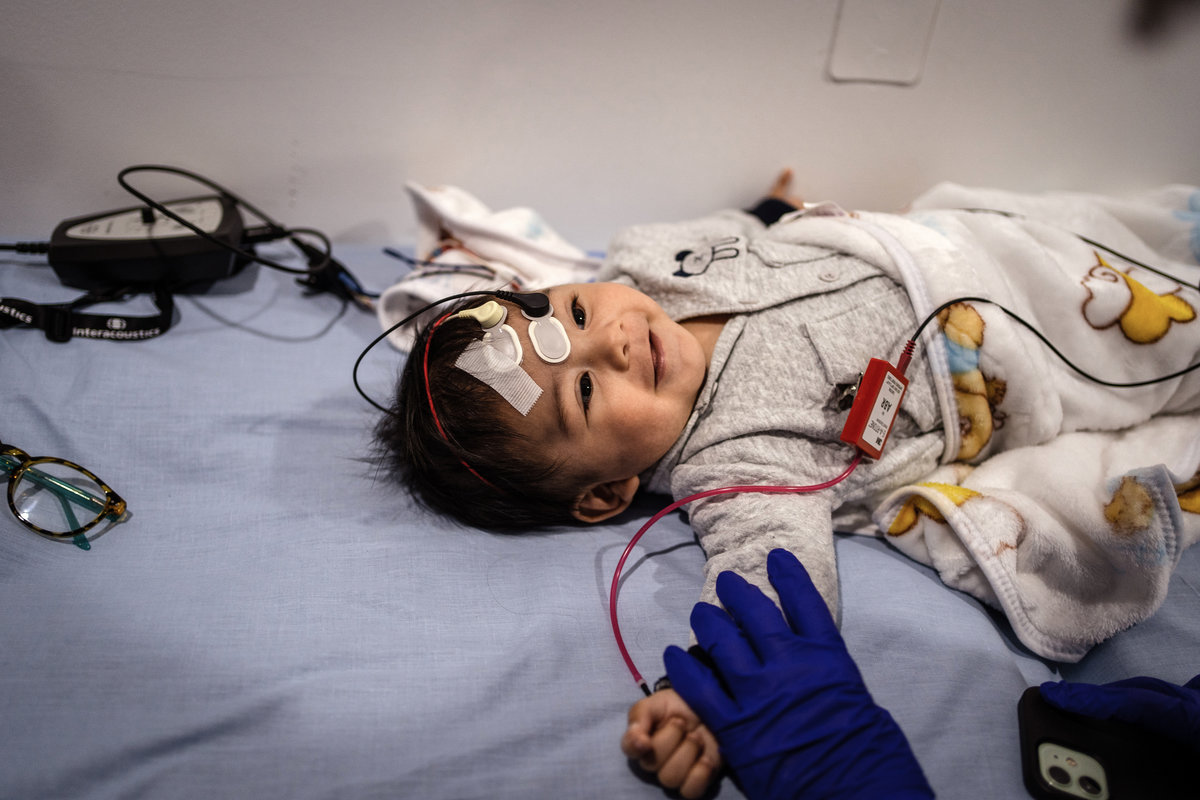 Project partner
Oír Para Crecer (OPC)
Support
Technology
Funding
Expertise
About the project
Oír Para Crecer (OPC) aims to scale access to hearing care for Peru's low-income population and further strengthen the quality and sustainability of services. The Hear the World Foundation has supported an interdisciplinary team of eleven permanent staff members and three volunteers since 2016.
The project we support provides holistic services along a full continuum of care (screening, diagnostics, hearing aid fitting, auditory habilitation, family support and training for professionals and volunteers). The local team focuses on capacity building and collaboration to gradually expand services from the capital in Lima to the outlying provinces in rural areas where they are able to reach more children. They systematically collect and analyze data to drive the necessary integration of hearing care into the public health system and to integrate people with hearing loss into society.
In 2023, the focus will be on continuing capacity building and expanding the use of auditory brainstem response testing (ABR) and auditory steady state response (ASSR), procedures used to evaluate hearing in infants and older children who are not able to perform a behavioral hearing test.
ABR and ASSR in use
HTWF donated equipment for ABR and ASSR to our project partner Oír Para Crecer (OPC) in Lima. Following two initial online seminars and during a visit to Lima in the summer of 2022, Prof. Dr. Patricia Roush, Hear the World Foundation Advisory Board member, and Prof. Dr. John Grose, Professor in the Department of Otolaryngology and the Department of Health Sciences at the University of North Carolina and volunteer for HTWF, worked closely with the Peruvian audiologists familiarizing them with the equipment and training them in the interpretation of test results. Thanks to this knowledge transfer process, hearing screening and evaluation is expanding in Peru, and young children with hearing loss served by OPC are being identified earlier and treated using state-of-the art clinical procedures.
Interview
The goal is to provide the best care
Dr. Patricia Roush has been practicing pediatric audiology for over 35 years. Her work and clinical research focuses on diagnosing hearing loss and fitting hearing aids in infants, as well as the audiological treatment of ANSD (auditory neuropathy).
Prof. Dr. Patricia Roush Professor Emeritus in the Department of Otolaryngology at the University of North Carolina School of Medicine in Chapel Hill, NC, USA. She supports the Hear the World Foundation as an advisory board member.
Evaluating the hearing of infants and young children is highly complex. Why?
Newborn hearing screening is only the first step in early identification of hearing loss. Following a failed screen, comprehensive diagnostic evaluation with ABR and/or ASSR is an essential next step. Since babies are unable to tell us what they hear, specialized equipment and training are needed to provide accurate estimates of hearing thresholds for hearing aid fitting. Ongoing assessment using tests adapted to the age and individual needs of the child are required to maximize developmental outcomes.
What impressed you the most during your assignment in Peru?
We were impressed by the passion and motivation the Peruvian professionals demonstrated during the training. It was clear that they incorporated ideas and skills learned from earlier trainings supported by Hear the World and that their goal is to provide the best possible clinical care for children with hearing loss.
Why do you support the foundation as an advisory board member?
As a pediatric audiologist in the U.S. for many years, I have had the opportunity to see first-hand the impact of early diagnosis and treatment of hearing loss on the lives of children and families. While these services are now the standard of care in many economically developed countries, they are lacking globally. I feel privileged to work with the Hear the World Foundation to improve access to hearing care for children worldwide.